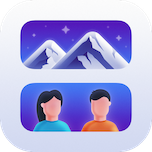 Smart Photo Widget
by Cromulent Labs
The Ultimate Photo Widget
Smart Photo Widget is the best photo widget on the App Store, and the last one you'll ever need.
There are two types of results you'll get from all of the other photo widget apps out there:
You end up with poorly framed photos with your loved one's head missing.
You have to painstakingly choose and crop each photo to make sure it displays properly in each widget size.
Using Smart Photo Widget, simply choose a photo folder and install the widget and you're done. Smart Photo Widget does all of the work for you and frames each photo perfectly and rotates through your best photos throughout the day.
Give Smart Photo Widget a try and see that it really is the easiest to use photo widget app on the iOS and Mac App Stores by far.
Features:
Perfectly frames each photo in every widget size automatically!
Option to skip bad photos (blurry, too dark, screenshots, etc.).
Rotates the best photos throughout the day.
Optionally add handy overlays like current weekday/date/time or show the photo's date and location. (Premium Version)
Choose from many different photo filters to make your photos pop. (Premium Version)
Add picture frames to your widgets for some whimsy.