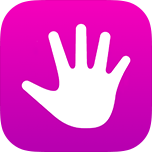 Hail Yes Pink
by Cromulent Labs
The easiest and quickest way to book a ride on Lyft.
With Hail Yes Pink, you get clear and simple time and price estimates for every car type so that you can make an informed decision.
Features:
Handy widget lets you see time and price estimates with just one swipe from anywhere on your device.
Clearly see current primetime pricing to save money.
One tap to jump into the Lyft app and confirm your ride..
Upgrade to the Pro Version today to unlock the following features in all Hail Yes apps:
Remove all ads.
Unlock up to 10 destinations.
Next Calendar Event will automatically update with the location of your next calendar event.
Also download Hail Yes Black from the App Store today to book rides on Uber.
This product uses the Lyft Platform but is not endorsed, certified, or otherwise approved by Lyft. The Lyft app is still required to book a ride.